Wisdom teeth extractions are a fairly common procedure. Wisdom teeth often cause problems as they are trying to protrude through the gums. When a wisdom tooth is impacted, it means the tooth is coming in at an angle and not straight through the gum line. This can cause pain, the tooth can come in unevenly, or the tooth may only emerge partially.
When a wisdom tooth only emerges partially a flap of skin, called an operculum, may form over the tooth. This can make the tooth hard to clean, and pieces of food may be caught under the skin. This makes it easy for an infection, called pericoronitis, to develop. It will usually go away on its own, but it causes swelling and pain in the area.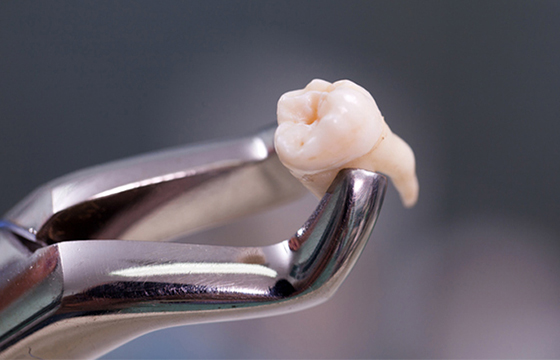 Impacted teeth and wisdom teeth that can potentially cause problems, like infections, need to be removed. Extractions can range from a single tooth to removing all four wisdom teeth at once. Based on the preference of the doctor and/or the patient, a local anesthetic could be used to numb the areas where the teeth will be extracted. Others will prefer to go under a general anesthetic so that they will be sedated during the procedure.
The gum tissue around the wisdom tooth is cut open to reveal the tooth. The tooth is loosened by gripping it tightly and wiggling it back and forth until it can be lifted out of the gums. Sometimes a tooth may be impacted so tightly that it cannot be simply lifted out of the gums. In cases like this, the tooth will be broken up into pieces first before being removed. Depending on the incision and extraction site, sutures may be needed to close the area. Soluble sutures are the best option, which will dissolve on their own.
Post-Operative Instructions
Pressure should be placed on the gauze pad that has been placed on the extraction site for one hour. If the bleeding continues new gauze should be placed and pressed on for another 45 minutes.
If you are supervising children who have had the extraction done, make sure they don't bite on their numb lips or tongue (it can cause serious injury to their soft tissue).
Avoid eating or drinking anything hot on the day of your extraction. Also, do not rinse your mouth, do not use a straw for drinking. Do not spit and do not drink carbonated beverages. Do not brush on the day of the surgery, you can resume your brushing and flossing the day after, gently.
You may experience some pain, bruising around your lips and/or some swelling, especially after extraction of impacted wisdom teeth. Ice bag application and medication prescribed for you will help to minimize your discomfort.
Please take all the medication you have received based on the instructions given to you.
During the first 2-3 days after the surgery a diet of soft food and liquids is recommended (soup, yogurt, milkshake, and juice).
For more complex Surgical Procedures including Impacted Wisdom Tooth Extraction, Implant Surgical Procedures, etc; you will receive an ice wrap which should be worn for the rest of the day and until you go to bed on the day of surgery only (10 minutes on and 5 minutes off). Individual instructions for various surgical treatments will have some unique directions which will be supplied to you at the time of your treatment.
 Call us if you experience excessive bleeding, severe pain or swelling or if you have any questions or concerns.